Fluorescent Penetration Inspection
Objective
To detect potential defects or actual defects that may disrupt the product quality, fluorescent penetrant are spread over the product surface to confirm the location, shape and size of the defects.
Characteristics
1) Main Characteristics
Fluorescent penetration inspection may only be carried out by a certified inspector as per the NAS410.
The fluorescent penetrant is capable of penetrating upto the very finely opened hole (crevice).
The fluorescent penetrant contains fluorescent pigment which shines with yellowish green color when exposed to the ultraviolet rays.
The fluorescent indicators detected under the ultraviolet rays shall be deciphered according to the passing criteria applicable to the product.
2) Products to Apply
This inspection method is applicable to the nonporous metals and nonmetals.
3) Process Flow Chart
[Pre Clean/Etch] → [Apply Penetrant] → [Remove Penetrant] → [Dry Parts] → [Apply Developer] → [Examine Parts] → [Post Clean]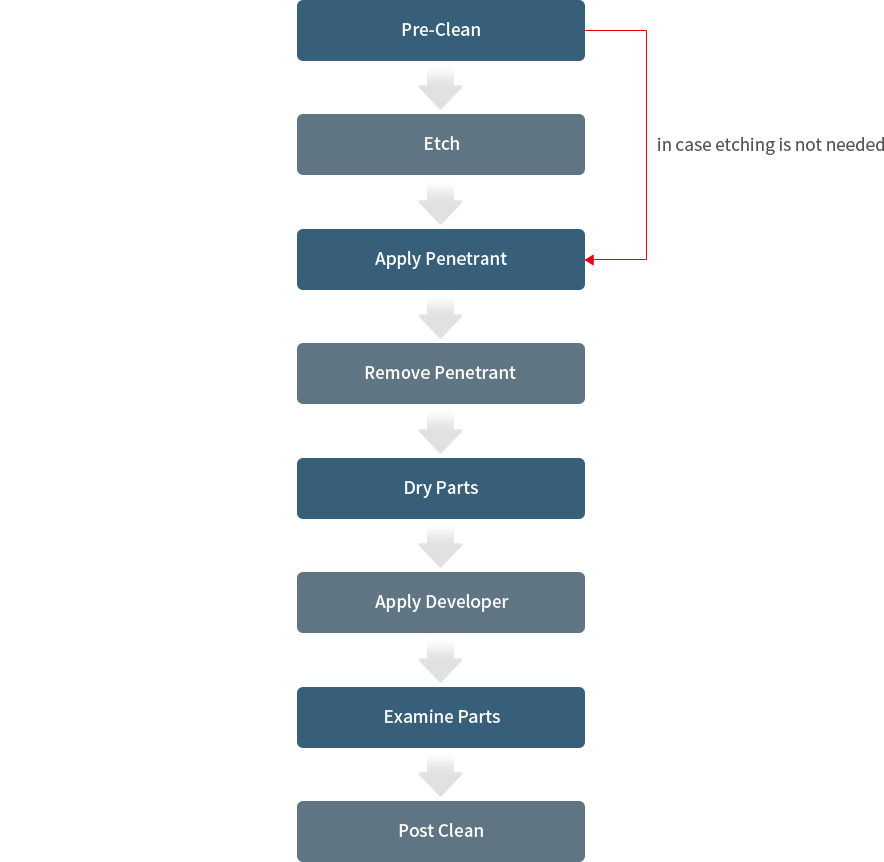 Status of the Process Approval
NADCAP


BSS7039, BAC5423 / HP6-13 / AITM6-1001 / NE07-001 / RRP58003 / P3TF2, P3TF47 / HGS1010, EMS52309, EMS92358 etc.

KSPC


ASTM E 417 / 81QD009 /A88MP0023 / FA84MP0411 etc.
Status of Production Facilities
FPI #1 (Type 1 Method A, Form a & d)
3400(L) x 1400(H) x 800 mm (W)
FPI #2 (Type 1 Method A, B(or D), Form a & d)
1700(L) x 1700(H) x 1600 mm (W)